Hotel Communities
Major hotel brands including the Hyatt, Sheraton, Marriott, Kimpton, Westin, Hilton, DoubleTree, Embassy and Holiday Inn, along with affordable inns and historic bed & breakfasts account for approximately 16,000 hotel rooms in the Sacramento region. More than 2,000 hotel rooms are within walking distance of the Sacramento Convention Center and a total of 4,000 hotel rooms are within a three-mile radius. 
 
The nucleus of Sacramento's food, art, music, and entertainment scenes include Old Sacramento historic district, DOCO, The Kay, and the vibrant Midtown with its tree-lined streets, old Victorians, upscale lofts, boutiques, bars, clubs, cafes and yoga studios. The central business district radiates outward from the imposing State Capitol set in a lush, 40-acre park. Amid the towering office buildings are museums, hotels, the Sacramento Convention Center, Golden 1 Center, historic churches and cultural attractions that contribute to a lively urban ambiance.
Total hotel rooms: 3,500
 
Developed over the past 20 years, this residential and commercial neighborhood north of downtown is home to Sleep Train Arena, family-friendly restaurants, shopping centers and mid-range, name-brand hotels. Sacramento International Airport is less than 10 minutes away, and two major freeways provide quick access to other parts of the city.
Total hotel rooms: 840
 
A destination within a destination, Point West is home to premium brand hotels, dozens of restaurants, the 350-acre Cal Expo exposition grounds, the popular Arden Fair shopping mall, movie theaters, and other family-friendly entertainment venues. Less than five miles from downtown, it's conveniently situated between two major freeways and is easily accessible via surface streets.
Total hotel rooms: 1,600
 
The former grounds of McClellan Air Force Base, now sits the McClellan Conference Center, Lions Gate Hotel, and the 3,000-acre McClellan Business Park. Only 14 miles from Sacramento International Airport (SMF) and 10 miles from Downtown, attendees will have the best of both worlds: a tucked-away, relaxing getaway, and a stress-free meeting. The Crown Plaza Northeast is located 2 miles from McClellan.
Total hotel rooms: 350
Free Visitors Guide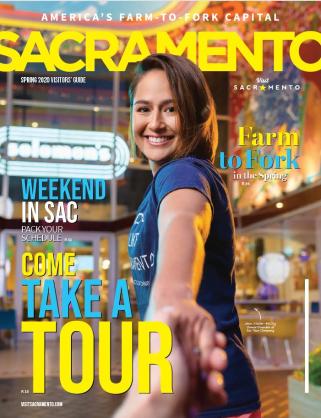 Get Inspired:
by the people and places of Sacramento in the digital Visitors Guide.
Getting Around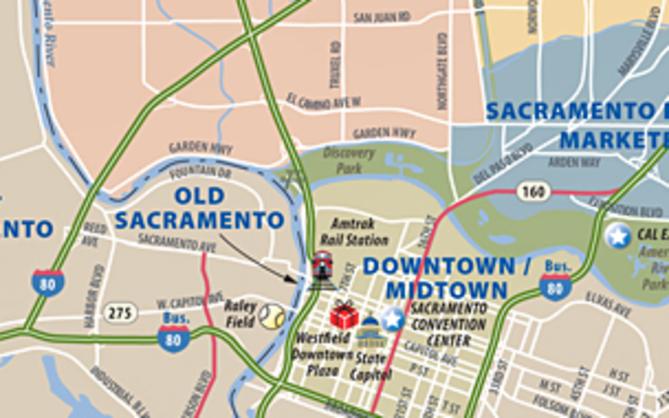 Things to Do