Sacramento S.A.F.E. Pledge
The Sacramento S.A.F.E. Pledge is a community-wide commitment to follow best health practices and guidelines in order to provide Safe Accommodations For Everyone.
The S.A.F.E. Pledge is a program developed to communicate what local businesses and organizations in Sacramento are doing to keep everyone safe and healthy.
The S.A.F.E. Pledge utilizes the latest COVID-19 health and safety guidelines from both the Sacramento County and California Departments of Health, the CDC, and other health organization authorities.
Facilities, venues, hotels, hospitality partners, and other local businesses in Sacramento who take the S.A.F.E. Pledge have committed to uphold a gold standard for best industry health, safety and cleanliness practices.
As a coveted achievement of prepared facilities, the SAFE Credit Union Sacramento Convention Center and Hyatt Regency Sacramento were both awarded with the GBAC STAR Facility Accreditation, the cleaning industry's only outbreak prevention, response and recovery accreditation for facilities.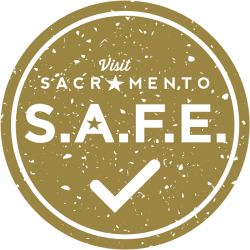 It is Visit Sacramento's goal that the S.A.F.E. Pledge provides residents and visitors with the resources needed for a safe and enjoyable experience in our destination.
Safety is top-of-mind for Sacramento business owners, who have been working tirelessly to implement state-mandated guidelines for occupancy limits, physical distancing, and enhanced cleaning and disinfecting procedures. 
All local businesses and hospitality partners that have taken our S.A.F.E. Pledge have agreed to uphold best-practice industry health and safety standards by following guidelines and recommendations from the CDC, state and local authorities—and are committed to being transparent with their safety protocols for employees and guests.

How it Works:
Businesses Pledge To:
Wash hands frequently.
Wear face coverings while interacting with guests.
Clean and sanitize all surfaces and common areas.
Follow social distancing and capacity guidelines.
Conduct wellness screenings of employees.
Provide employees general COVID-19 awareness training.
Provide hand sanitizer.

Guests Pledge To:
Wash or sanitize hands before entering a business.
Wear face coverings while inside the establishment.
Follow social distancing guidelines.
Use contactless payment methods when possible.
Stay home when feeling unwell.
Avoid direct contact with staff and other guests.
Use hand sanitizer as needed.

Upon taking the S.A.F.E. Pledge, each local business and organization will receive a badge toolkit to be used and displayed at their establishment—with the below symbol included in their business listings on the Visit Sacramento website.