Visitez Sacramento
Sacramento est une destination idéale pour vos vacances en Californie du Nord. Visitez Sacramento et profitez-en pour découvrir le meilleur de la Californie du Nord : Les routes du vin, le Gold Country et son histoire de la ruée vers l'or, les forêts de Redwoods qui se vantent d'être les plus grands arbres du monde, San Francisco, le lac Tahoe, Reno, Yosemite, Lassen Volcanic National Park et la région de la Central Valley en Californie.
Capitale gastronomique des États-Unis
Lorsque vous aimez les bonnes choses, vous en cherchez la source. Les chefs de Sacramento préparent leurs plats avec des ingrédients frais qu'ils puisent dans leurs jardins ou marchés locaux. Vous vous souviendrez longtemps de ce que vous avez goûté à Sacramento. La ville est aussi un paradis pour les amoureux de vins et de bières. Vous trouverez plus de 200 entreprises vinicoles et 25 brasseries qui vous aideront à trouver la meilleure des boissons pour accompagner vos repas. Si vous souhaitez apprendre les bases de la cuisine américaine, plusieurs options s'offrent à vous : Les cours de cuisine, les visites de fermes ou encore les dîners organisés par les vignerons.
Cliquéz ici pour sept bonnes raisons de passer par Sacramento (de Canoe.ca)
Sélection de restaurants: Mulvaney's B&L, Ella Dining Room + Bar, Grange, Cafeteria 15L, Paragary's.
Découvrez l'histoire de la Californie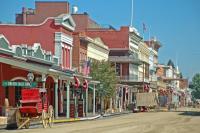 Old Sacramento est le centre-ville historique de Sacramento. A Sacramento, les rues sont ornées de passerelles en bois, d'une architecture des années 1850, de trains à vapeur et d'une histoire passionnante au sujet de leurs héros, méchants et fantômes qui contribuent encore aujourd'hui à conserver la magie de la période de la ruée vers l'or connue en anglais sous le nom de California Gold Rush. Sacramento était au cœur de ce Gold Rush, et vous pourrez vivre ici l'expérience authentique du Far West.
Proche de Sacramento, la région de Gold Country possède beaucoup de petits villages et de musées historiques hérités de l'époque du Far West. Visitez le Marshall Gold Discovery State Park, où John Marshall a trouvé de l'or en 1848.
Sélection des meilleures attractions: California State Railroad Museum, Sutter's Fort, Crocker Art Museum (Un musée d'art qui présente des œuvres artistiques peintes par les impressionnistes Californiens et autres œuvres importées du monde entier). 
Profitez du plein-air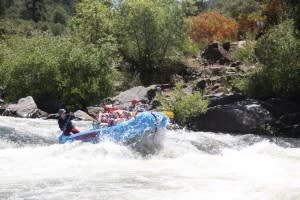 La ville de Sacramento se situe à l'intersection de deux rivières, l'American River et la Sacramento River. Aux alentours de ces rivières, vous pourrez profiter des beaux parcs et belles plages de sable blanc, ainsi que toute une série de sports nautiques. Plus de 50 kilomètres de pistes cyclables s'étendent le long de ces deux rivières ainsi que dans le downtown. Profitez d'une randonnée en pleine nature, observez les animaux sauvages qui peuplent les environs, ou si vous préférez, étendez-vous sous le soleil et relaxez-vous. Après tout, vous êtes en Californie.
N'oubliez pas que Sacramento se situe à proximité du lac Tahoe, de Yosemite et de la Sierra Nevada (grandes montagnes), tous accessibles par voiture.
Sélection d'activités de plein-air : Observation d'oiseaux, randonnées à vélo, exploration de caves et de mines d'or de l'ère de la ruée vers l'or, rafting en eaux douces et visites guidées de la ville avec des guides vêtus en tenues traditionnelles.
Loger à Sacramento
Les hôtels de Sacramento sont ravis de vous accueillir et mettent tout en œuvre pour vous offrir le confort que vous attendez. Que vous recherchiez une chambre luxueuse équipée de jacuzzi ou une chambre plus modeste où dormir, vous trouverez ce que vous cherchez à Sacramento. 
Sélection d'hôtels: Best Western Sutter House, The Citizen, Amber House Bed & Breakfast (petit hôtel de style européen, avec petit-déjeuner américain complet), Hyatt Regency.
Envoyez un Message
Vous voulez visiter Sacramento ? Envoyez-nous un message à Brandon Darnell à l'addresse : bdarnell@visitsacramento.com.
Sacramento is America's Farm-to-Fork Capital, and that means it has fantastic food. There are more restaurants with high Zagat ratings in Sacramento than anywhere else in Northern California. Fine dining restaurants are nestled in historic...
Learn More